Fortnightly Update from ERVAS – 25.06.2021
Know a local group who need extra support providing #COVID19 relief?

You can still request support from the Voluntary and Community Sector Emergencies Partnership.
We are recruiting!
Are you looking for a job in the charity sector? We have a number of vacancies available to join our team at ERVAS:
Events & Training
We have a number of virtual events and webinars taking place (you can click the date or time to book a place):
You can also find full details of events and training on our dedicated websites:
East Riding Summer Activity Fayre
East Yorkshire Parent and Carer Forum and East Riding Voluntary Action Services are hosting the East Riding Summer Activity Fayre on Thursday, 15
th
July 10am – 12, to showcase a range of services and activities provided for children and young people with Special Educational Needs and Disabilities (SEND) within the East Riding.
If you would like to present for 5 minutes about your services and activities to update parents and carers, as well as other practitioners, about what you are able to offer in the coming months, please can you book on via Eventbrite.
If you would like to promote your service and activities, but can't attend on the day, you can send us a pre-recorded film beforehand.
The event will be run as a live webinar for presenters and will also be livestreamed on YouTube on the day and saved as a future resources.
For further information and to discuss presenting, please contact Claire Thomas at EYPCF: Participation@eypcf.co.uk.
Your organisation could win a £1000 donation this month
Cheer for England, Scotland, and Wales this Euros as easyfundraising will give £100 for every goal scored by the home nation, up to £1000. To be in it to win it, register your organisation, group or charity with easyfundraising, then simply visit the competition page and share to enter:
http://efraising.org/GSLq0EbxuS
Online CPD Learning Offer
Our new CPD training portal is now live, the portal brings us 47 new courses covering a wide range of topics from conflict management, personal money management, health and safety, food safety, GDPR, safeguarding, and so many more.
The portal can be found on the training website here: cpd.ervas.org.uk.
All of the courses are priced at £30 each, however we have made a discount code available which will provide 50% off, you just need to use the code 'ERVolSec'.

East Yorkshire Parent Carer Forum (EYPCF) Update
Volunteer opportunities to be part of our Steering Group
East Yorkshire Parent Carer Forum (EYPCF) is a registered charity which was formed in 2009 and is part of the National Network of Parent Carer Forums.
EYPCF aims to ensure that parents and carers of children and young people with Special Educational Needs and Disabilities (SEND) are involved in the shaping and improving of local authority and health services.
If you have an interest in Special Educational Needs and Disabilities (SEND) we are looking for volunteers to be part of our Steering Group.
What is the EYPCF Steering Group?
The Steering Group sits under the Board of Trustees.  The Board of Trustees set the general direction of the work and the volunteer Steering Group Members carry out the work of the Forum.
The Steering Group has its own Chair and meets monthly.  Staff administration provides support with the day to day running and planning of the work.
What might you do as Steering Group Member?
There are lots of exciting volunteering opportunities as a Steering Group Member. The amount of time you are prepared to commit is up to you.
Below are some of the things you could choose to be involved in. You will never be asked to do anything you do not feel confident about and there will always be support available.
Talking and networking with other parents.
Help organising and attending parent/carer events or coffee drop-ins with speakers.
Attend meetings with our partners in health and/or local authority to represent parent views, identify gaps in services and develop new services.
Represent the EYPCF at meetings of the regional or national parent carer forums.
Help develop surveys and consultations to gather members' views.
How will your volunteering make a difference?
Reach out to more parents and carers with children with SEND and make their voices heard.
Empower more parents/carers with the knowledge to get the very best support and resources for their child.
Ensure gaps in services are identified and new services to meet the needs of parents/carers are commissioned.
Gather the views, feelings and ideas from parents/carers.
Ensure that parents/carers are represented on all relevant meetings where their voices should be heard.
Really make a difference for families with children and young people with a disability.
How will you benefit?
Opportunity to network with other parents/carers, make new friends.
Learn a range of new skills
Improve your own knowledge of SEND and services to benefit your family
Build your confidence
Improve your future job prospects.
More importantly to have fun!
If you are interested in the work we do and/or would like to volunteer please have a look at our information and get in touch.  If you would like to become a Member of the Forum, please complete the online form East Yorkshire Parent Carer Forum (eypcf.co.uk)
Contact information
East Yorkshire Parent Carer Forum (EYPCF)
Claire Thomas, Participation Co-ordinator
Email: participation@eypcf.co.uk
Telephone: 07813 676941
Website: www.eypcf.co.uk
Facebook: (3) East Yorkshire Parent Carer Forum | Facebook
Twitter: @EYPCF

CO-OP Update
Live Local Event
We have an online event coming up to bring together colleagues, Member Pioneers, customers and causes in the Hedon area on Tuesday 29th June at 6pm – Join in Live Local.
At this event we will share how membership not only benefits our members but also the community, more about Co-operatives Fortnight and what our local Member Pioneer is doing in the community. There is a also a chance for attendees to ask the Store Manager questions and hear from one of our Council Members. We will also be joined by the Manager of 4 Seasons Hull – a workers cooperative based at Sandhill Garden Centre in Preston who will talk about what they do. This event will also run as the first local Forum for the Hedon, Thorngumbald and Keyingham areas.
You can sign up via the Co-operate site and the Eventbrite link.
We're Celebrating Coop Fortnight in June & July
This June and July, Co-op Funeralcare 2-4 Spencer Centre, Mill Street, Driffield YO25 6TN invites you to drop-in to our Community Coffee mornings. We are celebrating all things co-operative during Coop Fortnight (21 June – 4 July) and beyond.
The theme for 2021 is #JoinACoop – providing an opportunity to celebrate our members, spread the word about the benefits of membership and encourage people to join us.
Come along and meet your hostess, Claire Musgreave and Gillian Perry your Co-op Member Pioneer for Driffield and surrounding villages.
Find out about:
Co-operative values and principles
The benefits of Co-op membership
How we support our local community and projects
What community resources we can provide
Our forthcoming community events
What is Fairtrade? – Try a Co-op Fairtrade cuppa tea (or coffee)
Fairtrade chocolate tasting
What's going on in your community
Drop in anytime Monday to Friday 10am – 2pm from 29th June to July 9th. Claire and Gillian will be available to chat on the following dates and times, when we hope to be joined by our local causes, staff from community projects and other Co-operatives in the area:
Tuesday 29th June 11am – 1pm
Thursday 1st July 11am – 1pm
Tuesday 6th July 11am – 1pm
Friday 9th July 11am – 1pm
TELL US WHAT YOU THINK What is needed to improve wellbeing and co-operation in our community and what is being done well? Your ideas will be entered into a draw and you could WIN A HAMPER of Co-op goodies!
More information about Co-op Fortnight can be found at:
What is Co-op Fortnight | Co-operatives UK
https://twitter.com/CooperativesUK/status/1407624476146081794?s=20
Do it For East Yorkshire Community Grant
Please find attached details of the new Do it For East Yorkshire Community Grant which opened on 1st June.
This small grant fund is open to all communities within the East Riding. The fund, created from the Reimagining Market and Coastal Towns budget uplift, is intended to enable Town and Parish Councils, Voluntary and Community Sector organisations and others to hold events & festivals, organise COVID recovery community activity and extend access to services, all intended to encourage residents back onto high streets and to utilise arts, cultural and community facilities.
Applicants will be able to access grants from £500 – £5000. The total grant fund is currently £250,000 made up of £200,000 from the budget uplift and an additional £50,000 from the public health team. This additional budget is particularly aimed at supporting vulnerable residents to participate in planned activities, particularly those who have been shielding and might need additional support to get involved. Grants will be available until March 2023, or until the full funding is spent, whichever is sooner.
In addition, I have enclosed information on all current small grants available to communities across the East Riding, please contact the relevant teams for more information.
For more information visit www.doitforeastyorkshire.co.uk/#community-grant
To apply for Do it For East Yorkshire Community Grants please visit the Flexigrant website https://eastridingofyorkshirecouncil.flexigrant.com/default.aspx
For further information and advice on your application please contact the Local Growth Team via email localgrowth@eastriding.gov.uk

#HaveYourSay East Riding Draft Local Plan Update
Residents are being invited to have their say on proposed plans for development that will shape the future of the East Riding for years to come.
East Riding of Yorkshire Council is asking for people's views and comments on the East Riding Draft Local Plan Update, which sets out revised planning policies, including housing and employment development targets for the East Riding to 2039.
The current East Riding Local Plan was adopted in April 2016 and the updated plan is proposing 20,900 dwellings to be built in the East Riding over the plan period with the draft sites for allocation also included in the proposals.
Due to the coronavirus pandemic, the extended consultation will take place over 10 weeks. The documents for people to comment on can be found at www.eastriding.gov.uk/localplanupdate where there is a series of interactive information pages which summarise key issues and will signpost readers to the various consultation documents.
Hard copies of the documents will also be available to view at the council's libraries, customer service centres, multi-service centres and mobile libraries during normal opening times. Please consider accessing the documents online before travelling to an East Riding facility.
Councillor Gary McMaster, portfolio holder for planning, infrastructure and housing said: "The current Local Plan was adopted in 2016 and the council has now reviewed the plan and is now consulting on a draft update.
"I would urge people to take a look at the proposals and let us know their views on the proposed housing, employment and mixed-use allocations across the towns and villages in the East Riding". Comments can be made online via www.eastriding.gov.uk/localplanupdate or by writing to Forward Planning (AS67), East Riding of Yorkshire Council, Cross Street, Beverley, HU17 9BA. All responses should be received no later than Friday, 6 August 2021.
National Voluntary Sector Updates

NAVCA Update
What is the Vision for Volunteering?
We're very pleased to be working closely with our friends and colleagues at NCVO, Volunteering Matters and the Association of Volunteer Managers on the collaboration for a long-term Vision for Volunteering.
Launched last week, this collaboration will bring people together from across the VCFS and beyond to fully integrate volunteering into post-Covid recovery, harnessing the skills, experience and enthusiasm of volunteers. We want to bring together people from every aspect of civil society to share ideas on volunteering, identify what supports and enables people to volunteer, and the barriers which stop people from contributing to their communities.
Local infrastructure has a central role to play in developing this vision – they really are the beating heart of a community's voluntary and community sector – and we hope you will want to be involved. To sign up for regular updates please add your details to the list here.
New vacancies available at the VCS Emergencies Partnership
As the VCS Emergencies Partnership moves into a new funding period, there are several vacancies available to join the project delivery team. Please click each job title for more information:
Please see individual jobs posts for deadline for applications (all are by the end of June) and please note that due to anticipated high volumes of applications, the roles may close before this date.
Free PPE for the voluntary sector
The Department of Health and Social Care is offering free PPE (personal protective equipment) for use by voluntary sector organisations.
You can express your interest in this free PPE by completing this short form with a few details and then a representative of DHSC will contact you to arrange delivery.
Please note that the details you provide will only be passed to DHSC, and the PPE and the delivery are both free of charge.
NAVCA is pleased to be co-ordinating this distribution, with over 200 organisations already signed up to receive free PPE.
Consultation: Protect Duty
The Home Office is seeking views on how the Protect Duty can make the public safer at publicly accessible locations.
This consultation aims to understand how the government can work with organisations to
develop measures to improve public security and how those responsible for publicly accessible locations are ready and prepared to take appropriate action, were a terrorist attack to happen.
They are asking for input specifically from organisations who own or operate at publicly accessible locations or others that a 'Protect Duty' would potentially affect. This could include community buildings and venues used for community activities, so please do have a look at the consultation.
The survey is likely to take around 30 minutes to complete, however this may vary with each respondent and you can click here to access all the information and the survey.
The consultation closes on 2 July 2021.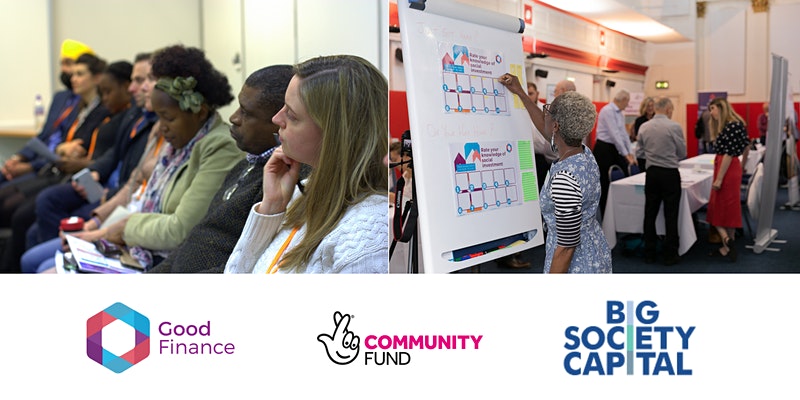 Let's Talk Good Finance: Housing
Good Finance are delighted to be working with The National Lottery Community Fund to bring you this Let's Talk Good Finance event.
This event is for charities, social enterprises and community businesses working across the housing sector who would like to learn more about how social investment could be a useful financial tool.
Let's Talk Good Finance offers social enterprises and charities the opportunity to:
Hear from charity and social enterprise leaders who have already accessed social investment across the housing sector.
Learn about different types of social investment and better understand when social investment is not suitable or appropriate.
Find out what resources & support is available around social investment.
Ask questions in a safe and non-judgemental space.
This event is open to all social enterprises and charities across the UK, so please join us to find out more.
Register now via the Eventbrite page to save your virtual seat!
Please note we will also share your contact data with our event partners, Good Finance & Big Society Capital. To see the relevant privacy notices, visit:

Civil Society and Youth Update
Winners of the 2021 Queen's Award for Voluntary Service announced
Charities, social enterprises and voluntary groups from England, Wales, Scotland and Northern Ireland have received the prestigious award for delivering exceptional service within their communities over the past year and beyond.
The winners have carried out critical work to enhance the lives of others, from reaching people suffering with dementia through music and song in Gloucestershire, to providing support and friendship to refugees and asylum seekers in Merseyside.
Many of those honoured have adapted their services to respond to the coronavirus outbreak as the voluntary sector continues to play a vital role in the national recovery. This has been recognised through a special designation given to 164 of the group for providing impactful support during the initial lockdown.
Minister for Civil Society and Youth, Baroness Barran, will be marking Volunteers' Week with a series of visits to some of the exceptional organisations carrying out critical work.
Minister for Civil Society, Baroness Barran said:
"I'm extremely grateful for the work being carried out by volunteers across the country, and this prestigious award is extremely well deserved. I'd like to congratulate all of the winners, and thank them for the dedication to their communities".
To read more click here.
Tampon Tax Fund deadline for applications: 4 July

A pot of £11.25 million has been made available to charitable organisations to bid for, with priority given to those working to end violence against women and girls, as well as organisations that support a network of charities.
The Tampon Tax Fund was introduced in response to VAT being imposed on sanitary products by the European Union, and following this round will have provided more than £90 million of funding supporting women and girls charities.
The deadline for applications is Sunday 4 July.
Find our more and apply here.
New vaccine toolkit for employers

The Department for Health has launched a new toolkit for employers to help ensure employees get reliable information about COVID-19 vaccines. Several major employers have already pledged to promote vaccine uptake with their employees and to allow flexibility for staff to get vaccinated during work hours.
Access the toolkit to get materials for you to run internal awareness campaigns promoting the benefits of vaccination, including key messages, posters, fact sheets and videos providing accurate up to date information. The government is calling on as many employers as possible to join the campaign and support the efforts to continue to bring the nation out of lockdown.
National Youth Agency – National Census of Youth Services
The National Youth Sector Census is now open and accepting responses. NYA want to hear from all organisations and groups who deliver or support youth services and out of school activities to give us the essential information needed to invest in young people and out of school activities. The Census will inform policy-makers, service providers and funders as part of Covid-recovery and over the long term, to provide resources, training and opportunities across communities. Some organisations are pre-registered and will have received a unique link via email to fill in the census. If not, we are encouraging organisations to sign up.

The National Youth Sector Census and Why It Is Vital to Participate by Leigh Middleton, chief executive, National Youth Agency
Fraud, Scams and Digital Updates

NTS Scam Alert
East Lancashire rogue trader jailed for conning victims
A rogue trader has been jailed for conning a string of people across the county.
John Hargadon took money for work he never finished and lied to trick East Lancashire residents into having work done that wasn't needed. 
more
Council warns residents after reports of rogue traders in Dagenham
Rogue doorstep traders have been offering cheap loft insulation to people in Dagenham, the town hall has warned. People across the borough are urged to contact Barking and Dagenham Council if they see anyone suspicious after recent reports to the local authority. more
Mobile phone upgrade scam
The National Fraud Intelligence Bureau (NFIB) are aware of an ongoing scam where consumers are being cold called by individuals impersonating employees of legitimate mobile network operators and suppliers. more
Fermanagh woman loses all of her savings to criminals
A Fermanagh woman has transferred over her savings totalling £14,000 to brazen criminals claiming to be from the National Crime Agency (NCA).
Rose Connolly had put the money away to go travelling, but those plans have been shattered following a phone call on June 2nd. more
Virtual dating boom leads to surging UK 'romance fraud'
Romance fraud, in which criminals cheat victims out of money by feigning romantic interest, soared during the pandemic as people spent more time online.
Which? found these scams were up by 40% in the year to April 2021, with over 7,500 incidents reported. more
Escape to the Country star Jules Hudson reveals eBay scam troubles
Escape to the Country star, Jules Hudson, has admitted that he was once scammed online – and that it was a "hard lesson" for him.
Speaking to the Financial Mail on Sunday last year, he revealed he had purchased a large purchase from eBay – and was cheated out of a tidy sum of money in the process. more
Warning after Nottingham man loses £200,000 in Bitcoin scam
Police are warning the community to be vigilant to the devastating impact of investment fraud after a Nottingham man lost £200,000 through a Bitcoin scam. more
'I am on Universal Credit now': Victim loses £120,000 to Instagram scam
A retired teacher who lost £120,000 to an Instagram scam has told ITV News she has been left claiming Universal Credit as a result of the loss.
63-year-old Teresa Jackson, from Portishead, is one of 36 million adults to have been targeted by criminals since January, according to Citizens Advice. more
Which? Scam Alert
Marcus by Goldman Sachs clone site
A very convincing clone site of Marcus by Goldman Sachs has recently been taken down. It's one of many cloned financial websites the Financial Conduct Authority (FCA) has issued warnings on this year – having already issued 721 specific warnings so far in 2021.
We show how similar the clone site was to the real thing, what to do if you think you were taken in by the scam and how to keep safe from other clone site fraud.
The Co-operative Bank phishing email
We show a real scam email pretending to be from The Co-operative Bank that's doing the rounds at the moment. The most dangerous fakes can even replicate the sender email address so the message appears to come from a trusted source such as a bank or government domain.
In this video, we reveal all the telltale signs to spot fake emails and how to avoid being scammed.
Fake Hermes parcel delivery texts
Scam texts claiming to be from delivery company Hermes have been circulating for a long time, but recently the scammers behind them have been trying to make their attempts to con you even more convincing by luring you into a bank transfer scam.
We show you various examples of the texts and explain how fraudsters have been changing their tactics to try and catch you out.
Citizens Advice shares its learnings about the world of scams
Citizens Advice says many often assume that it's older, less 'digitally savvy' people that get scammed. But that couldn't be further from the truth. Fraudsters have adapted their techniques whenever there's been a new development in the pandemic, and they are taking advantage of the financial pressures people are under.
Every year, Citizens Advice runs Scams Awareness Fortnight with the Consumer Protection Partnership. Here, it explains what it has learnt about scams in the past year.
Online dating fraud
Romance fraud has boomed during the UK's lockdowns, with reports to Action Fraud up 40% in the year to April 2021. Fake profiles on dating sites and social media platforms are so prevalent that TV producers have commissioned a new UK spin-off of the popular US reality show 'Catfish'.
Here, victims of romance fraud tell us about their experiences in their own words, and we speak to a forensic linguist to lift the lid on tactics used by these masters of manipulation.
| | |
| --- | --- |
| | Join Our Fraud Awareness Group |
---
Join our new Fraud Awareness Facebook Group
---
We're launching our first ever Humberside Police Fraud Week on Facebook from Monday 28 June to Friday 2 July. We're encouraging victims of fraud to share their experiences with us and each other, to help protect others from fraud in the future.
Perhaps you've received a fraudulent text, phone call or email and would like to post the experience to our dedicated Facebook group to help others avoid falling victim to fraud? Or maybe you're keen to learn to spot the signs to find out how you can avoid falling victim yourself? Simply join the group by clicking here.
Links and attachments: Humberside Police will only ever link you to secure web-sites we trust. We will only send you attachments where we believe it is absolutely necessary.
Message Sent By
Michael 8366 (Police, Communications, Humberside)
| | |
| --- | --- |
| | Has The Pandemic Made Us More Or Less Aware of Online Risks? |
---
Along with our Cyberhood Watch partner, Avast, we have launched a new survey to understand whether the Covid-19 pandemic has changed our attitudes towards certain aspects of cybersecurity and privacy since the first lockdown in March 2020.

The findings from the survey will be used to inform ongoing Cyberhood Watch awareness initiatives for the Neighbourhood Watch community and draw attention to important cybersecurity and privacy topics though the media to help UK citizens improve their knowledge of, and protection from, cyberthreats.

The survey of 16 questions will take you less than 5 minutes to complete and all answers are anonymous. It is open from today and will close on Sunday 27th June 2021. If you'd like to take part, please follow the link below:

https://www.surveymonkey.co.uk/r/XSYQQTD

Thank you very much in advance for your support in the fight against cybercrime in the UK.

NEIGHBOURHOOD WATCH NETWORK, Central Support Team
Follow us.. ourwatch.org.uk / Facebook / Twitter / Instagram / LinkedIn

Neighbourhoood Watch Network is a charity registered in England & Wales, CIO no: 1173349
Message Sent By
Central Support Team (NWN, Neighbourhood Watch Network, England and Wales)
| | |
| --- | --- |
| | Covid Vaccine Passport Scam |
---
We have been made aware of a Covid Vaccine Passport scam email going around that purports to be from the NHS and informs recipients that they can apply for their "Digital Coronavirus Passports"

Clicking on the link within the email, takes you to a convincing but fake NHS website that asks for personal and payment details. (for an admin fee)

The website has since been taken down, but in case similar emails/websites appear can you please circulate the attached alert to your residents, members, groups and mailing lists.

And just to reiterate, your vaccination status is obtained FREE through the NHS App, website or by calling the NHS on 119.

More information can be found on the gov.uk website;
https://www.gov.uk/guidance/demonstrating-your-covid-19-vaccination-status-when-travelling-abroad

Please note that any Phishing scams can be reported to  SERS (Suspicious Email Reporting Service):  report@phishing.gov.uk

Best wishes

NEIGHBOURHOOD WATCH NETWORK, Central Support Team
Neighbourhoood Watch Network is a charity registered in England & Wales, CIO no: 1173349
Message Sent By
Cheryl Spruce (NWN, Head of Membership and Community Engagement , National)

Your Birthing Choices
Help us share maternity and neonatal services for the future
Across the Humber, the NHS and local partners are looking at ways to improve healthcare in our region and we want your input to help us make the best changes for you and your family.
We want to understand what is important to you when choosing where to give birth so we can develop maternity and neonatal services for the future with you in mind.
Please take 5 minutes to complete this short survey to help us understand what is most important to you as we work to plan for the future.
You can find out more about why we need to make changes and keep up to date on our work and future involvement opportunities by clicking here to sign up to our newsletter.
or by visiting our website: Humber Acute Services Programme:  www.humbercoastandvale.org.uk/humberacutereview
For more information on how your local maternity services can support you, please visit the Humber, Coast and Vale Local Maternity System's website: https://www.humbercoastandvalematernity.org.uk/
Humberside Police & Crime
Commissioner
 Updates
Statement from the Office of the Police and Crime Commissioner for Humberside
I am writing to you to inform you that the roles of five members of OPCC staff are currently considered to be 'at risk' of redundancy and the staff will be in consultation for the next five weeks ending 23 July 2021.
As a partner organisation that works closely with the OPCC, you may find some disruption to our business as usual with those affected during this time.
The five roles included in the consultation are:
The four Engagement Officers
The Senior Policy Officer.
The changes are proposed to better meet the requirements of the new Police and Crime Commissioner who wants to see a different approach specifically to how we engage with communities, how we manage our volunteers and our national policy work.  All staff impacted by the proposed changes are being supported and provided flexibility during this time.
As I am sure you will appreciate, there are some things we may not be in a position to continue with due to capacity moving forward.
Any concerns, please let Paul Wainwright at the OPCC know.  He can be contacted on paul.wainwright@humberside.pnn.police.uk
Launch of e-Learning platform to raise awareness of Child Exploitation – FULL DETAILS HERE
The Office of the Police and Crime Commissioner has today launched Not In Our Community Interact, a comprehensive e-learning platform dedicated to education about grooming leading to sexual and criminal exploitation. Films produced and released through Not In Our Community range from the No More Knives animation for school Year 6 and above, through to films exploring themes of sexual and criminal exploitation co-written with young people and based upon their own experiences.
Whilst these films have been seen many thousands of times through social media, NIOC Interact has been developed to maximise the reach and application of these resources interactively within home and educational settings.
NIOC Interact is available for free to all young people in the Humberside Police Force area via www.notinourcommunity.org. Additional functionality is available for schools, support workers and
wider youth engagement settings upon request.
Commissioners Blog – June 2021
Your new Police and Crime Commissioner (PCC) Jonathan Evison will be issuing a regular blog to inform the public about his role, his priorities and progress. You can read Jonathan's first blog at:
www.humberside-pcc.gov.uk/News/News-Archive/2021/Commissioners-Blog-June-2021.aspx
One of the Commissioner's first major tasks is to write and issue a Police and Crime Plan, setting out his objectives for the coming three years which the Chief Constable of Humberside Police must bear in mind when making his operational plans.
In the coming days we will be launching a survey to gather your views and priorities on Policing and Community Safety. Look out for the survey link and please have your say. 
Commissioner Opens Consultation on Policing and Community Safety
Police and Crime Commissioner (PCC) Jonathan Evison has opened an online consultation until 11th July to gather views on Policing and Community Safety from the public and community partners in the Humber region as his prepares his Police and Crime Plan for the next three years.
The survey gives you the opportunity to tell the PCC:
About your experiences of crime and policing, good and bad.
Any issues with the service you receive in your local area.
What you'd like to see change in the coming months and years.
Where you see the greatest opportunities to work better with you, our communities and local partners.
Click here to find out more and take the 10-minute survey.
We look forward to hearing your views.

Effective Support for Children, Young People and Families In The East Riding of Yorkshire Thresholds, Referrals & Consent Briefing
Aims:
To introduce you to the updated Threshold of Intervention and Need Guidance and how to use it to help inform your decision making.
To inform you how to make requests for service to the new Early Help Locality Hubs (formerly Children's Centres, Prevention & Education Team and Youth and Family Support) and the Child Safeguarding Hub (Children's Social Care) when additional or intensive support is needed for children, young people and their families or you have a safeguarding concern.
To help you understand when consent is needed to discuss a child's situation or make a request for service.
To Book a place chose a session below and apply by emailing your details to the ERSCP as detailed below.
Sessions: All will be delivered via Teams on the dates below.
| | | |
| --- | --- | --- |
| Day | Date | Time |
| Friday | 09 July | 14:30 – 15:30 |
| Thursday | 19 August | 09:30 – 10:30 |
| Tuesday | 14 September | 15:45 – 16:45 |
| Monday | 11 October | 15:45 – 16:45 |
| Wednesday | 17 November | 15:45 – 16:45 |
| Tuesday | 14 December | 15:45 – 16:45 |
How to apply:
Please email erscp.training@eastriding.gov.uk with the following information and a link to your chosen date will be forwarded to you.
| | | | | |
| --- | --- | --- | --- | --- |
| Full Name | Team | Job Title | Email | Chosen Date |
| | | | | |
Arnold Clark Community Fund
The fund is supporting UK registered charities and local community groups that are in need of financial support due to Covid-19. Each month until the end of May, 500 applications will be granted. If an application is unsuccessful one month, it will be rolled over and considered in the following month. The final date for applications is Monday 31 May, however applying earlier increases the chance of being successful.
Application forms and more information is available from Arnold Clark's website. https://www.arnoldclark.com/community-fund
Humber Learning Consortium are pleased to announce the open call for applications to our ESF Community Grants 5 project.
ESF Community Grants are part of the European Social Fund (ESF) program which is distributing small grants in the Humber, East Riding, York and North Yorkshire region. The aim of the fund is to help unemployed people progress towards employment through access to learning and training opportunities. Applications would be welcomed from North Lincolnshire and North East Lincolnshire.
Grants of between £5,000 and up to £20,000 are available.
For further details go to www.hlc-vol.org – contact details community-grants@hlc-vol.org or call Jacquie Newman on 07541626331 to discuss any potential applications.
All applications must be completed electronically. We will not accept any applications by post or email. To access the electronic application form please go to our website https://www.hlc-vol.org/2021/02/esf-community-grants-5-round-5/
When completing the Electronic application form – the form cannot be saved throughout completion. Therefore you must answer every question fully in one session before submission. It is strongly advised that you download the word template paper version from our website to enable you to cut and paste the written narrative answers onto the electronic form.
NFU Mutual Community Giving Fund Announces 2021 Deadlines
Funding for community events, charities, schools, and community group activities that are local to NFU Mutual's business operations across the UK.
The Fund offers grants of up to £1,000 for projects that fit their main areas of interest:
Connecting the community; reducing social isolation, providing opportunities, and encouraging resilience.
Providing care and support to vulnerable members of the community.
Relieving poverty; improving the health and wellbeing of communities.
Advancing education and experiences for young people.
The grants are to be used for specific project costs, for example purchasing an item of equipment or furniture, or something else that will help people over a long period of time.
There are normally four application rounds in a year.
The 2021 deadlines for applications are 30 June, 30 September and 30 November 2021.
Magic Little Grants 2021 Open on 1 March
Smaller charities and community groups across Great Britain can apply for a one-off £500 grant from 1 March until 31 October 2021.
Six funding trusts from the People's Postcode Lottery and Localgiving will be working together to award more than £1 million in small grants to some 2,000 charitable organisations in England, Scotland and Wales over the next six months.
Unlike previous years when projects had to deliver sports or physical activities, this year (2021) the funding aims to support organisations carrying out projects that address the following themes:
Improving mental wellbeing
Enabling community participation in the arts
Preventing or reducing the impact of poverty
Supporting marginalised groups and promoting equality
Improving biodiversity and green spaces
Enabling participation in physical activity
Responding to the climate emergency and promoting sustainability
Increasing community access to outdoor space.
Organisations that receive a grant will also be awarded a year of free membership (funded by the player's of the People's Postcode Lottery). This means that the grant recipient will not have to pay the £80 + VAT membership fee, although they will still be required to set up a direct debit upon registration.
Also new for 2021, charitable organisations that are schools or connected to schools may apply. This is in addition to registered charities, Community Interest Companies (CICs), Charitable Incorporated Organisations (CIOs, SCIOs) social enterprises, and other not-for-profit community organisations.
Applications will be accepted from 1 March 2021 to 31 October 2021.
Emergency funding available for residents struggling financially due to COVID-19 pandemic
East Riding of Yorkshire Council's emergency assistance scheme aims to help residents of the East Riding who are in need at a time of crisis.
Due to the current COVID-19 pandemic, the government have made available a limited amount of funds for residents of the East Riding who are in need at a time of emergency or crisis. This money is to help support residents where they have had a reduction in their income as a result of coronavirus and urgently require assistance with food and essentials.
Awards will be made where there is no alternative means of meeting the need, this includes help from universal credit and other benefits payable.